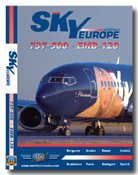 Worldairroutes Sky Europe


SkyEurope is the leading Central European low-cost airline. With bases in Hungary, Poland and the Slovak Republic, it is also the first multi-based airline in the region of Central Europe. The airline's fleet is composed of Boeing 737-500 and 6 Embraer 120 aircraft with a large order of Boeing 737-700s on the way.
This program takes you from one of Sky Europe's hubs, Bratislava, to 7 destinations in France, Germany, Italy, Slovakia and Switzerland. You will fly in the cockpit and get several pilot presentations. The dvd also includes a pair of flights filmed in the cabin and much more...
Download
:
http://rapidshare.com/files/10370028/Just.P.Sky_European.HQ.by.Dimka.part01.rar
http://rapidshare.com/files/10370792/Just.P.Sky_European.HQ.by.Dimka.part02.rar
http://rapidshare.com/files/10371544/Just.P.Sky_European.HQ.by.Dimka.part03.rar
http://rapidshare.com/files/10372424/Just.P.Sky_European.HQ.by.Dimka.part04.rar
http://rapidshare.com/files/10369373/Just.P.Sky_European.HQ.by.Dimka.part05.rar
http://rapidshare.com/files/10375559/Just.P.Sky_European.HQ.by.Dimka.part06.rar
http://rapidshare.com/files/10376228/Just.P.Sky_European.HQ.by.Dimka.part07.rar
http://rapidshare.com/files/10377120/Just.P.Sky_European.HQ.by.Dimka.part08.rar
http://rapidshare.com/files/10377916/Just.P.Sky_European.HQ.by.Dimka.part09.rar
http://rapidshare.com/files/10378623/Just.P.Sky_European.HQ.by.Dimka.part10.rar
http://rapidshare.com/files/10374809/Just.P.Sky_European.HQ.by.Dimka.part11.rar
http://rapidshare.com/files/10379449/Just.P.Sky_European.HQ.by.Dimka.part12.rar
http://rapidshare.com/files/10380105/Just.P.Sky_European.HQ.by.Dimka.part13.rar
http://rapidshare.com/files/10380879/Just.P.Sky_European.HQ.by.Dimka.part14.rar
http://rapidshare.com/files/10381752/Just.P.Sky_European.HQ.by.Dimka.part15.rar
http://rapidshare.com/files/10382497/Just.P.Sky_European.HQ.by.Dimka.part16.rar
http://rapidshare.com/files/10383214/Just.P.Sky_European.HQ.by.Dimka.part17.rar
http://rapidshare.com/files/10384094/Just.P.Sky_European.HQ.by.Dimka.part18.rar
http://rapidshare.com/files/10384945/Just.P.Sky_European.HQ.by.Dimka.part19.rar
http://rapidshare.com/files/10385569/Just.P.Sky_European.HQ.by.Dimka.part20.rar
http://rapidshare.com/files/10386288/Just.P.Sky_European.HQ.by.Dimka.part21.rar
http://rapidshare.com/files/10386516/Just.P.Sky_European.HQ.by.Dimka.part22.rar