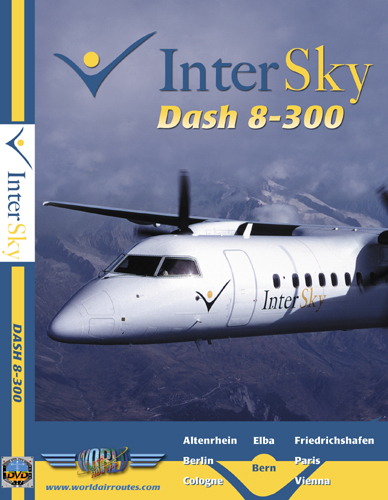 InterSky operates a fleet of modern Dash 8-Q300 aircraft on scheduled European flights from its bases at Bern and Friedrichshafen. The airline also operates winter ski charters into Switzerland and summer charters to resort destinations.
This program is one of the most complete in this series focusing on a wide variety of rarely seen features such as a scenic flight around Switzerland, an air to air flight over Switzerland where we follow the dash 8 over some spectacular scenery, an emergency training including smoke in the cabin and evacuation and a flight in the cabin.

Also included are a cockpit presentation and walkaround of the Dash 8 and flights to 8 destinations with one of the most memorable approaches and landings on the island of Elba.

Download
:
http://rapidshare.com/files/858669/Inter.part01.rar
http://rapidshare.com/files/866522/Inter.part02.rar
http://rapidshare.com/files/875330/Inter.part03.rar
http://rapidshare.com/files/906912/Inter.part04.rar
http://rapidshare.com/files/926828/Inter.part05.rar
http://rapidshare.com/files/948272/Inter.part06.rar
http://rapidshare.com/files/962203/Inter.part07.rar
http://rapidshare.com/files/972018/Inter.part08.rar
http://rapidshare.com/files/982288/Inter.part09.rar
http://rapidshare.com/files/996969/Inter.part10.rar
http://rapidshare.com/files/1015284/Inter.part11.rar
http://rapidshare.com/files/1036363/Inter.part12.rar
http://rapidshare.com/files/1057043/Inter.part13.rar
http://rapidshare.com/files/1077014/Inter.part14.rar
http://rapidshare.com/files/1093732/Inter.part15.rar
http://rapidshare.com/files/1095987/Inter.part16.rar