Aircraft Landing System PRMG-76U/PRMG-5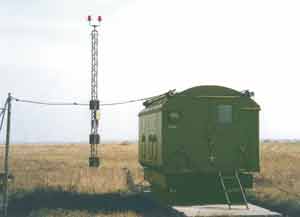 Ground equipment of PRMG-76U / PRMG-5 instrumental landing system of decimetric range is intended to provide approach and landing for an aircraft, equipped with airborne navigation system RSBN-2S or its modifications, around-the-clock under ICAO CAT I-II / CAT I, respectively, in manual, semiautomatic and automatic mode.
MAIN FEATURES:
Automatic Redundancy backup

Local and remote control of radio beacons

Automatic switch to stand-by circuit in a case of main circuit failure

Continuous tolerance testing

Remote check and control

High reliability

The systems can be used at a field and temporary airdromes.

PRMG-76U is recommended to use at stationary airdrome in remote control mode made from control tower. It provides landing under ICAO CAT II conditions if transmitting antennas and check point masts are installed on the foundation.

High mobility, small time of deployment, and universal autonomous power supply make PRMG-5 indispensable when there is the need of frequent moving from one airdrome to another. 

COMPONENT PARTS:

Glide-path radio beacon (GP)

Localizer (LLZ)

DME repeater station (DR), collocated with LLZ in control room of distance-measuring localizer beacon (DME / LLZ)

Telecontrol & telesignalling equipment (TC-TS)
SPECIFICATIONS OF PRMG-76U / PRMG-5




 PRMG-76U

PRMG-5

Localizer (LLZ)

 

 

Antenna system, elements in array

20

10

Polarization


horizontal 

Range, not less

 45km 

Coverage zone, horizontal plane

 ±15° 

Coverage zone, vertical plane

 0.85°-7° 

Frequency range

 905.1 - 932.4 MHz 


Frequency stability

 ± 0.005 %
 

Number of channels

 40 

Established limits of directional sector

 3° - 6° 

Deviation from established on-course plane position
at the beginning of runway, not more - for LLZ Cat I


 ± 10.5 m

 - for LLZ Cat II

  ± 7.5 m 


 Glide-path radio beacon (GP)

  

Antenna system


 "Zero area" 

Polarization


 horizontal

Range, not less


 18 км 

Coverage zone, horizontal plane


 ± 8° 

Coverage zone, vertical plane

 0.3 - 1.75 
 

Frequency range

 939.6 - 966.9 MHz 

Frequency stability


 ± 0.005 % 

Number of channels

 40 

Established limits of glide slope angle


 2° - 4° 

Deviation from established glide-path plane position, not more


 ± 0.075 

 DME Repeater

  

Antenna system

4-element array

Range, not less


45 km

 50 km

Coverage zone, horizontal / vertical plane


as for LLZ

Frequency range / Frequency stability / Number of channels

as for GP

Limits of ZERO POINT setting from DME repeater location

0 - 5 km 


Distance calculation error by aircraft, not more

250 m

Overall Dimensions

 

 

LLZ (GP) operating room, m

m 4,2 x 2,42 x 2,8

 4,36x2,05x2,24

LLZ (GP) cabinet, m

m 1,60 x 0,93 x 0,68

 1,23x0,60x0,51

Electric power station, m

m 1,40 x 1,43 x 1,64

 2,63x1,72x1,84

Operating Conditions

  

Temperature

-50 to +50°C 

Wind Load

up to 50 m/s 


Relative humidity

up to 98% at +35°C 

Power Supply

  

Circuit, three- phase

380V, 50Hz

Autonomous (petrol electric power station) / Accumulators

220В, 50MHz /+24V 

Consumed power, not more
~ Total, including life support facilities, per each beacon, not more 
~ Basic LLZ / GP equipment, not more
2,5 kVA
600 / 270 VA
Reliability
MTBF of each radio beacon, not less 3 500 hrs
Aircraft Landing System PRMG-76U/PRMG-5|Airport Radio Beaco
Source
:
AT Electronic and Communication International Ltd